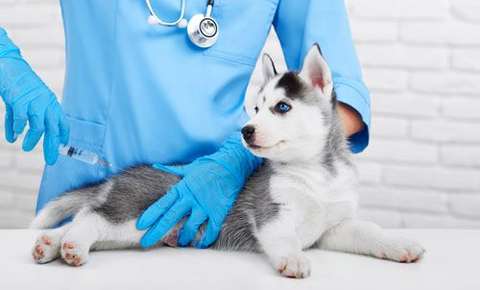 As with anything, pet vaccinations can be too much of a good thing. Similar to parents who are learning more about vaccinations for children, veterinarians and pet owners alike are beginning to question some of the standard wisdom when it comes to protecting pets. There are certain fatal diseases against which every pet should be protected, but the questions now relate to some of the newer vaccines, how often pets should be vaccinated, and whether it is appropriate to vaccinate all pets against all diseases.
In Healthy Pets, Dr. Karen Becker conducted an in-depth interview with Dr. Ronald Schultz from the University of Wisconsin – Madison, a pioneering expert in the field of veterinary vaccines. Dr. Schultz explains that puppies and kittens are different from human babies when it comes to the need for vaccinations. If the mother cat or dog has been vaccinated, some level of protection is passed on to the puppies or kittens for the first few weeks of their lives. Once a human baby has been vaccinated against a certain disease, the immunizations are not repeated again.
Dr. Schultz recommends a vaccination protocol that calls for pets to receive initial puppy or kitten shots. They should then be vaccinated again at one year of age. After that, he recommends booster shots every three years or so. The core vaccines which he believes every dog should receive include distemper, parvo, adenovirus, and rabies. For cats, his recommended core vaccines include panleukopenia, calici, herpes, and rabies.
The ASPCA also discusses some of the benefits and risks of dog vaccinations. Similar to Dr. Schultz, they provide a list of core vaccines and also include non-core vaccines which are based on the individual dog. These may include protection against Bordetella bronchiseptica, Borrelia burgdorferi and Leptospira bacteria. For cats, the AAHA (American Animal Hospital Association) also recommends that serious consideration be given to the timing and need for receiving a full battery of vaccinations.
Pets usually tolerate vaccinations quite well; however, if you should observe any unusual symptoms in your pet after an injection such as a fever, sluggishness, vomiting, diarrhea, or seizures, contact your veterinarian immediately.
What does this mean for you as a pet owner? It means that you need to become an advocate on behalf of your pet's health. Take steps at home to keep your pet healthy, visit your veterinarian on a yearly basis, and become educated on the benefits of pet vaccinations.
Sources:
Healthy Pets
ASPCA
AAHA