Featured Patient: Lola




Our lovely patient Lola is an 11 year old Terrier mix who presented for an annual dental check-up. The doctors and staff at Advanced Veterinary Care conducted a comprehensive dental examination on Lola, including a complete set of dental x-rays. The doctors diagnosed Lola with severe periodontal disease.
Lola's treatment at AVC included the extraction of eight teeth due to mobility, bone loss, infection, and deep pocketing. Lola's extractions were completed without complications. A long-acting antibiotic gel was used around the tooth roots to promote healing and prevent infection. Lola's remaining teeth (dogs have 42 teeth) were scaled, cleaned, and polished. Lola's family was instructed on how to properly care for her teeth at home and the importance of regular dental check-ups.
Lola has fully recovered from her procedure and her smile is looking better than ever. In addition to a better smile, Lola's mouth is now pain free and she has reduced her risk for kidney, liver, and bone infections. Lola now enjoys mealtimes and her owner enjoys her sweet smelling kisses! We are so happy to see our sweet Lola-girl looking and feeling great!

(Before photo of Lola's teeth)

(After photo's of Lola's teeth)
The doctors and staff at AVC are committed to providing the best and most comprehensive care available to all of our patients. This includes treating conditions like periodontal disease, which can be tricky to detect but has serious medical consequences. Take advantage of our March dental month promotion and schedule your pet's dental examination today.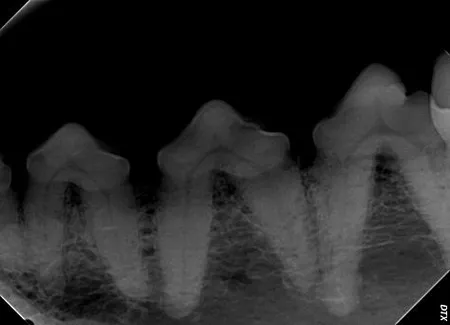 (Radiographs of Lola's teeth)