Featured Patient: Ollie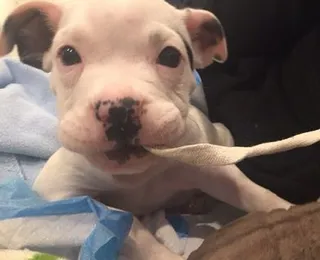 We first met Ollie for a general health exam after his owners had purchased him from a private party on Craigslist. It had been a while since they owned a puppy so they were anxious to know they were doing all they could for him. On physical exam, we found a tick embedded in the tissue of his right ear and he had a heart murmur. He otherwise appeared healthy. His new owners had owned him for only a few days but reported that he was active and eating well at home. At the end of the exam he vomited a moderate amount of undigested kibble. We assumed it was because he had eaten a large meal prior to his visit.
His owners took Ollie home and as the night progressed he continued to vomit and become progressively lethargic. He was taken to a veterinary emergency clinic and was ultimately diagnosed with canine parvovirus. His owners elected to transfer him here for his ongoing care.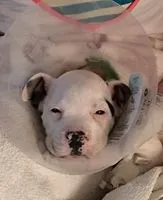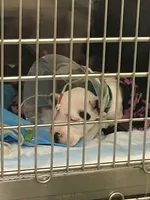 Ollie had a rough week- he was on intravenous fluids and medications to help with his nausea and diarrhea. We placed a tube through his nose that fed into his stomach in order to help provide nutrition and speed along his recovery. With the dedication of our doctors and nurses along with the love and care from his owners Ollie rallied and made a full recovery. He is now thriving and enjoying puppyhood to the fullest!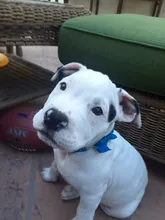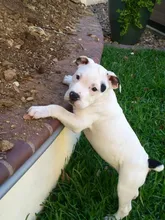 Parvovirus, as the name suggests, is a virus that affects the intestinal tract and bone marrow. Symptoms usually start with vomiting, diarrhea and/or decreased to no appetite. As the disease progresses it affects the bone marrow, decreasing the white blood cells in the body which makes the patient more susceptible to other infections. White blood cells are critical for fighting infection and keeping us healthy. Parvovirus is transmitted through contact with the virus cysts, which can live in the environment for a long time. They are not visible to the naked eye.
Luckily, parvovirus is easily preventable with vaccination. It is part of the normal puppy core vaccines and it is boostered throughout the rest of a dog's life. This only affects our canine patients but cats have a similar disease called panleukopenia, which is also preventable with vaccine.
Ollie's story teaches us a few things, primarliy that we can prevent serious disease with good health care and vaccine prevention. It also teaches us to be cautious- this is not the first family we have met who purchased a dog through Craigslist only to find the puppy was very sick. If you purchase a new puppy, we recommend adopting from a shelter. If you still opt to purchase from a private party, be sure to visit the home to see the parents and siblings of the puppy and request all medical paperwork. Even if they appear healthy we recommend bringing them to a veterinarian as soon as possible for a thorough physical exam.